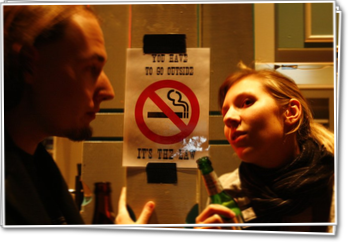 the Ultimate News Bulletin #1
22. December 2009
Prepare yourself for the Ultimate News Countdown (tUNC tm)!
»the Ultimate Meeting 2009 - we are very old« news bulletin will keep you informed about up-to-date topics regarding compos, events, travelling and more... starting today. You'll receive anything important compiled in one newsletter per day until tUM starts.
Let's have a look what's already on...
Compolurker Tickets
For those who feel too fragile to experience three days of pure party-pleasure, we offer a componight ticket for € 25 which will be valid from 18.00h on the 28th. So join us on Monday evening to watch the competitions with us.
Supporter Tickets
For the first time we'll offer Supporter Tickets starting at € 75 for the bronze class and € 150 for the silver class. Visitors willing to pay more than € 225 apply for the gold class! Every supporter will be mentionned on our website and is included in our prayers. And you'll get a party T-Shirt for free, too!
DJ Live acts
This year we'll have two fantastic liveacts! On sunday night we'll have Buck & Roger who will perfom their mandatory beldisco dj-set! And "paniq's live DJ set – of doom" will be the highlight right before the Ultimate Demonight on monday!
Also, we'll have various famous DJ's spinning at the 2nd stage during the leisure time between the competitions!
the Ultimate Meat-Thing
Nuance are back and brought the Ultimate Meat-Thing(tm) with them! So enjoy a nice barbecue on monday afternoon – for free!
They also released a small inmeatro for the occasion. Get it here, look it up on pouet or watch it on youtube!
the Ultimate Breakfast
Thanks to our friends from Echtzeit, you can enjoy "the Ultimate Breakfast!" on tuesday just before the prizegiving! Also free of charge!
Physical and mental exercise
As usual we'll have some fun compeetitions for the body and fast competitions for the mind. More details will be announced at the party.